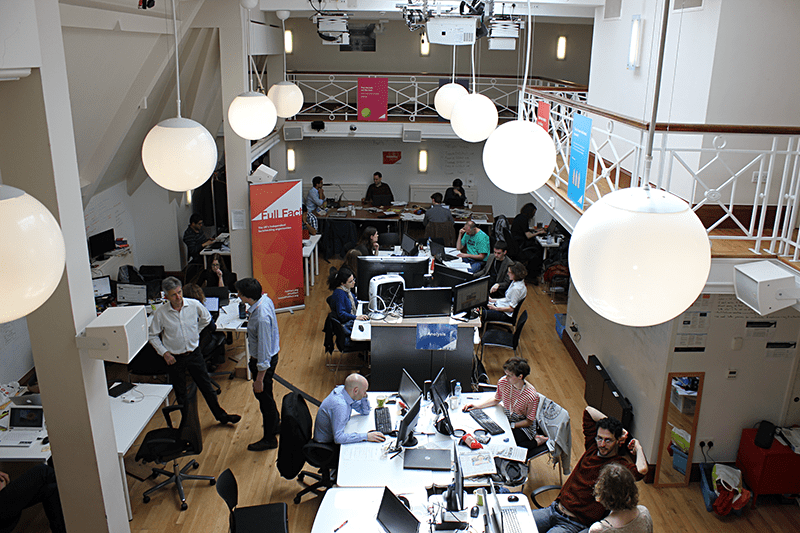 Working at Full Fact
If you are thinking of working for Full Fact, it's important that you're aware of our standards and the constraints we place on staff.

Our standards and neutrality
Full Fact's work must be independent, impartial, rigorous and balanced. It's essential that we have clear rules in place to ensure that, and they entail some requirements for members of our team while you work here.
You will be required to operate within our standards, including the Nolan Principles of conduct in public life, our rules on conflicts of interest and so on.
You will be have to complete a declaration of personal interests form in the later stages of recruitment, once a year while you work here, and whenever your circumstances change. This is to help us ensure that any potential or potentially perceived conflicts of interest are managed and mitigated so that they do not affect either Full Fact's or your own work and reputation.
Although anybody is entitled to be a non-active member of a political party or other organisation within the law, if you come to work here you won't be able to:
Say publicly how you vote or express support for any political party
Express a view for or against any policy that's currently a topic of political debate
We do encourage people to contribute to public life in ways that are compatible with our non-partisan role — where possible within our resources, we support people to do voluntary work such as jury service, magistracy, reserve forces and so on.
Secondments
Full Fact offers three month secondments for Fast Stream Assistant Statisticians from the Government Statistical Service who are interested in improving the communication and public understanding of statistics.
Secondees are exposed to a wide range of research and publishing tasks that build on their own interests and development ambitions. Opportunities are advertised periodically through the National Statistician's Office. You are welcome to contact Sophie Hale to find out more: sophie.hale@fullfact.org.
We would be happy to extend this scheme to other relevant organisations. Please email get in touch if you are interested.
Volunteers
We recruit volunteers for when we have particularly big projects going on (such as the general election, where volunteers donated over 4,000 hours).
We'll post here if any big projects come up which require volunteers. In the meantime, please fill out this form if you'd like to be added to our prospective volunteers list.